It's bound to be a long ass Saturday, and if Marvel fans are as diehard as the Firefly fans are, there's a chance I'll be spending the night in the Hall H line just to guarantee a good spot for the Marvel panel later in the day. I'm sure after today's craziness; Comic-Con is going to seriously have to consider moving to a different location. The crowds have gotten bigger, crazier even. From what I've been reading on twitter, the mood around the Con seems to be slightly off, and very, very different than past years. I saw tweets about people cutting into Ballroom 20 or Hall H lines.. It seems a bit testy out there, and if you can, just try to relax and remain as stress free as possible.
Remember: Almost every panel is going to end up on Youtube.. YES, I know it's not the same as being there, and I know you won't get the free swag or see the new 40 second clip from Iron Man 3 or whatnot… But, the reality is that everything will end up on Ebay, and pretty much everything that you see at Comic-Con will get leaked or released shortly after it's viewed in the halls or ballrooms. So, please, please, please, take a deep breath (you gotta remember to breath!), get as much sleep as you can, and grab some water and food whenever you can.
On a brighter note, take a look at our must-see panels for tomorrows-sure-to-be crazy day!
What: Django Unchained
Where: Hall H
When: 11:30
Who: Quentin Tarantino with unconfirmed cast!
Tarantino is a master. I'm hoping to be in the Hall for this panel, and if you're planning to be in Hall H all day anyways, than make sure you get there early enough for this. I know just about nothing about his new movie, but knowing Tarantino, I'm sure he's going to have some special guests!!
What: TV Guide: Fan Favorites
Where: Indigo Ballroom
When: 1:00
Who: Nathan Fillion, Matt Smith, Maggie Q, Tyler Posey, Joel McHale, David Giuntoli
I'm surprised this isn't in Ballroom 20, because I'm assuming this is going to be a full panel. I love everyone at this panel, and come on, Fillion and Smith on the same panel!!?? I'd kill to be there.
What: Family Guy
Where: Ballroom 20
When: 1:45
Who: Seth MacFarlane, Alex Bornstein, Mila Kunis, Seth Green and Mike Henry
This panel doesn't really need any explaining… I have a fat girl crush on Mila and would love to see her at the Con. Seth is always rad, and I know he's going to be in an even better mood because Ted has done so well at the box office! Oh yeah, how could I forget Seth Green, the Mayor of Comic-Con is going to rock this panel.
What: WB Panel: Superman, Pacific Rim and Hobbit
Where: Hall H
When: 2:30
Who: Henry Cavil, Zac Synder, Martin Freeman, Peter Jackson, Ian McKellan, etc..
This is a huge day for WB. They have some films that have a chance to be big hits, and this could be a real make it or break it time for them. I've already heard mixed things about the Hobbit, but I've also heard that we could be shown some footage!! Man of Steel: It's already been leaked that Henry Cavil will be making an appearance at the panel, but other than that, not sure who will be there. I heard on twitter that we will be shown some footage! I'm really excited for this project, so I hope the footage is awesome. Pacific Rim: I know relatively nothing about this project. But the cast looks awesome and I'm sure most of them will be making surprise appearances.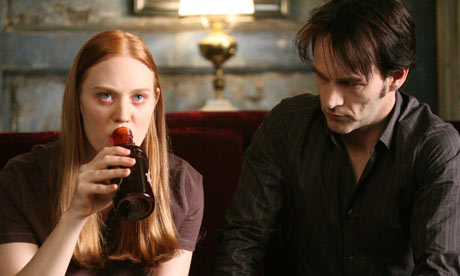 What: True Blood
Where: Ballroom 20
When: 4:30
Who: Not sure who has been officially announced…
The True Blood panel has always been extremely fun and they've always offered some good sneaks about the next season. The cast is attractive as fuck, so fair warning.. If you're planning on making it into Ballroom 20 for this, I would encourage you getting there very early in the morning. True Blood fans are passionate and will probably all depart after this panel, so get there early to ensure you have a spot.
What: Shameless
Where: Indigo
When: 4:00
Who: William H Macy, Emmy Rossum, Justin Chatwin, and Jeremy Allen White..
I love this show. If you don't watch it, I can solemnly say, that you are missing out. It's an awesome show, and I was lucky enough to be at the panel last year and not even know what the hell it was even about. Once you see this cast in action at the panel, you'll be tuning into catch them on showtime.
What: Marvel's Iron Man 3
Where: Hall H
When: 6:00
Who: As of know all that's been announced is Kevin Feige…
Marvel knows how to rule the Con. They proved it in 2010 when they officially announced the Avengers cast in front of 7000 adoring/screaming fans in Hall H. They know what the fans want and crave, which is why I think this may be my number one panel at the Con. I know there will be special guest, and I think Robert Downey Jr and Gwyneth Paltrow will be making appearances along with new actors to the franchise. I'm also assuming this will be the time we will officially hear what the untitled Marvel project is for 2014, and if we can expect Black Widow/Hawkeye in Captain America 2! I'm already nervous/excited for it!
What: Mythbusters
Where: Room 6BCF
When: 7:15
Who: Adam Savage, Jamie Hyneman, Tory Belleci, Grant Imahara, and Kari Byron
This is a fan favorite at comic-con and people usually have trouble getting in unless they've been waiting in line for an hour or so. I'm guessing some people wil try and sprint over after Marvel to see if they can sneak in, but I think there's a big chance that Iron Man's panel will run late which means you're going to have to either leave early from Hall H, or just wait out for Mythbusters.
What: Kevin Smith
Where: Hall H
When: 7:15
Who: Kevin Smith
Every year, Kevin Smith closes out Saturday in Hall H with an awesome Q & A session with his fans. I'm usually too tired to stay, but almost every year I regret it. And remember in the comic-con movie how those people got engaged during the panel.. Cool shit happens.. Don't miss it.
Categories: Comic-Con