Shopping Cart
Your Cart is Empty
There was an error with PayPal
Click here to try again
Thank you for your business!
You should be receiving an order confirmation from Paypal shortly.
Exit Shopping Cart
FRAK EARTH
For the nerd in all of us
I wasn't one of the lucky fans that got to attend New York Comic-Con this year, but from what I heard, it was fantastic!  The one panel that I would have died to see would have been the Avengers panel.  Not all the Avengers were present,   (Downey, Renner, Johansson, and Hemsworth were MIA) but the team that was made a huge impression on the Con. One of the biggest things I hear people talking about is how much the crowd (and apparently everyone online) seems to live Tom Hiddleston.  I thought he was good in Thor, but apparently every single question but one or two were directed at Tom.  
But it wasn't just Tom Hiddleston that won people over, it seemed that Agent Coulson finally had his moment.  Marvel just released a short film that tells the story of how flipping bad ass Agent Coulson really is.  I walked away from this short film finally realizing that Coulsen is just as awesome as the rest of the gang of Avengers.. Just without the actual powers.  Take a look at a clip and click HERE to watch the full film. 
Fans seem more excited about this movie than any other super hero movie that I can think of.  Batman has a huge fan base, I can't deny that, but the newly released trailer has people talking.  Batman's trailer merely had people wondering what the hell was going on.  
I really want Avengers to succeed.  I think the idea of getting all the superheroes together fighting for the same team against one common enemy (Loki) is going to be pretty damn awesome.  But it's like Chris Evans says, it's important for the group to be actual friends with each other, otherwise the relationships won't carry over on the big screen.  Clark Gregg let slip that since the cast were rarely all together while shooting, he once got a text from Chris Evans that just read 'assemble.' Which lead to an apparently amazing party, where Scarlet Johansson danced the night away in a VIP room.  
If you want to check out the full Avengers panel (and see Clark Gregg sing his Avengers theme song) then check it out below!
Take a look at the pictures of The Avengers cast as the signed autographs and hung out with fans at NYCC!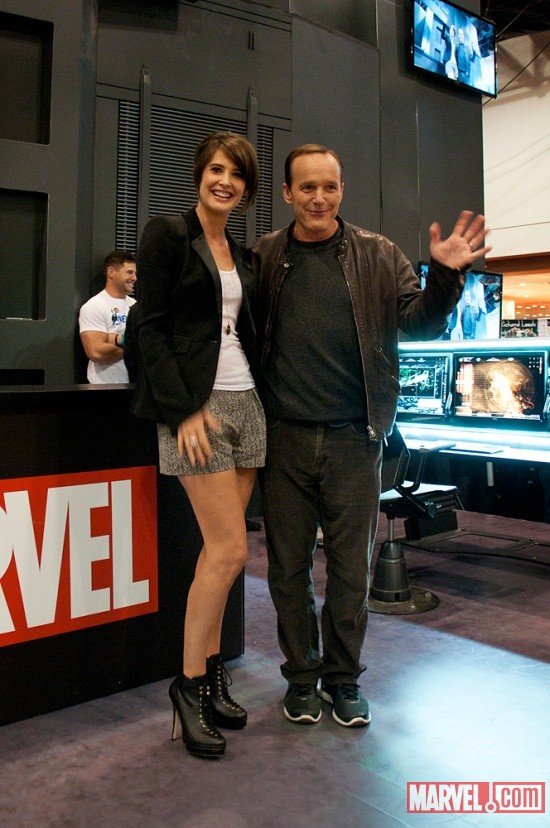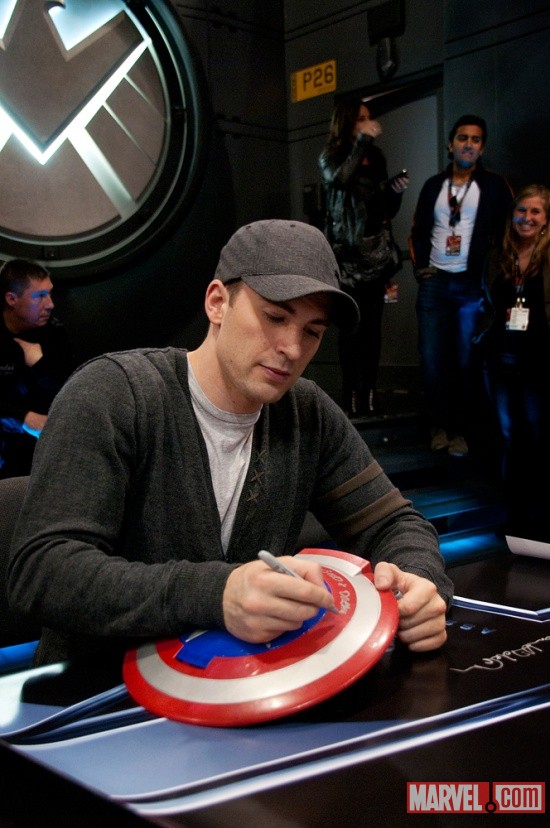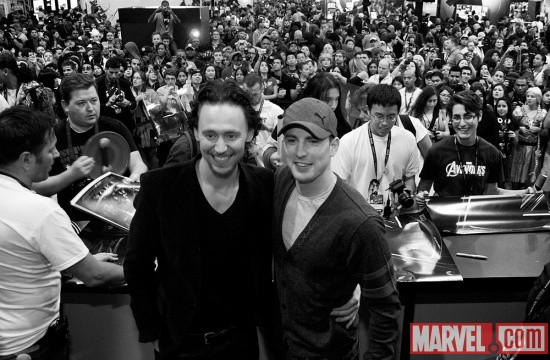 The Avengers hits screens on May 4th, 2012! 
Categories: Avengers, Comic-Con
/