Doctor Who?
Can that really be the question that cannot be answered?? It's obviously not about the Doctor's name, it has to be deep than that. It has to do with who the Doctor is and why he left Gallifrey, and what he did to be the last of the Time Lords. The Silence obviously have some sense of his future, and apparently it's so bad that they feel like have to kill him before he reaches the Fields of Trenzalore? But at the end, it seemed as though the Doctor was smirking at the audience, either telling us that Doctor Who isn't the question.. Or that he's telling us, he's already figured out the answer. Which brings us too:
What exactly is going to happen at the Fields of Trenzalore?
Dorian is prophesying that it's gong to be the fall of the 11th, but has also said that if the question is asked, then Silence Will Fall. This seems like a good thing, since I'm thinking Silence Will Fall means they are all going to die.. What can be so evil in the Doctor's future that the Silence has decided to kill him over?
What's up for next series?
The Doctor himself said that he has gotten too big and that he needs to go back into the shadows.. He wants everyone to forget who he is. Obviously, he does stay in the shadows, because River Song has been imprisoned for the entire time we've known her, for a murder she can't remember committing. Arthur Darvill has mentioned several times that he will be coming back for the 7th series, but hasn't said for how long.. From the answers given, it seems that it won't be as a series regular. Same goes for Karen.. If this is true, then is the Doctor going to be getting a new companion for next season?? Is River Song, the apparent Wife of The Doctor, going to finally occupy the TARDIS with him?
Is the marriage between River and The Doctor actually real?
After rewatching the episode a few times, I've come to the conclusion that the Doctor doesn't really like River.. He doesn't respect her (he says she's embarrassed him when she shows him the timey wimey machine), he doesn't care for her (allows her to rot in Stormcage for him, for a murder she didn't commit and doesn't remember) and he laughed at her when she said that she loved him. And he also said he doesn't want to marry her. As much as I've always shipped (slang term for a pairing) River/Eleven, this episode was probably the one that brought down River's likableness the most. Over the course of 3 seasons, Steven Moffat has successful turned River from an awesome badass independent woman (who ultimately gives up her life for the Doctor) to a lovesick puppy, who basically blackmailed the Doctor into marrying her. I could just be over thinking everything, because at the end of the episode, The Doctor does say something (that could be taken sexual) about River spending her days in Stormcage, but her nights with him!
What happened during the 200 years between the time The Doctor left Amy and Rory until he reunited with them in Utah?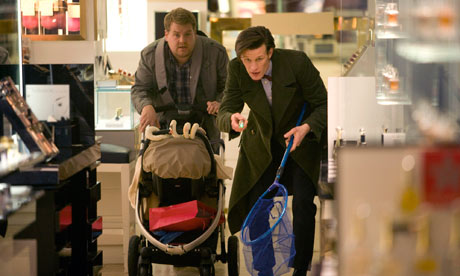 The Doctor called this period of time his goodbye tour of sorts. I'm also thinking that Closing Time took place right at the end of the 200 years, because he picks up the envelopes that he eventually ends to The Ponds, River, and Canton. It leaves an open space for Moffat and his team to write a movie that involves no companions and only the Doctor, or can always be used as a way to flashback to this time once the series picks back up.
Bonus Question: When did River and Amy chat? What time is this? And should River have told Amy the Doctor was alive?
River has just gotten back from the crash and the Byzantine and travels home to see her mother. Amy is obviously grieving for the Doctor.. But when exactly is this taking place? Is it technically after the 6 series, because it couldn't be when Amy sees the Doctor die in The Impossible Astronaut. River also tells Amy that she shouldn't over think killing Madame Kovarian since that took place in a time that never actually existed. But, if this were true, then the Doctor and River's marriage also wouldn't have actually counted. Yet, River calls herself the Doctor's wife just minutes after scolding Amy about events in fake universes. Obviously the Doctor being alive was such a huge secret that he didn't even go and tell his best friend, Amy Pond, which makes me wonder if the Doctor wanted Amy to find out. Now that she knows he's still alive, is she going to try and find him, and continue their adventures? Or is she going to leave the adventures to River?
Overall, I really liked the episode, and I really wish I had a TARDIS that could take me to fall of next year when the 7th series is set to premiere.
But in the meantime, take a look at my top quotes of the episode:
"She said you were a Mr. Hotiness and she would like to go out with you for texting and scones" –The Doctor to Rory
"River Song didn't get it all from you, Sweetie" Amy Pond to Madame Kovarain
"So you and me should get a drink sometime" -Amy
"okay" – Rory
"And Married" – Amy
"Okay" - Rory
"I'm not sure I completely understand" - Rory
"We got married, had a kid, that's her" - Amy
"okay" –Rory
"Her days, yes. Her nights.. That's between her and me, ehh?" Doctor about River.

Categories: Doctor Who