It seems like I've been waiting for years to get my official Pottermore email, but in reality it's only been a few short weeks. I signed up for the Beta process on the second day, and I finally received my email this morning!  If you're still waiting for your email, and don't want to be spoiled, then I would advise you to stop reading.. But if your ready to be spoiled then read on!
After following the link from my email, I officially signed into Pottermore and started my journey, just as Harry did when we first meet him in the first chapter of Harry Potter and The Philosopher's Stone:  The Boy Who Lived.  Each chapter has about two or three different pages within it.  Which means you get to read more in depth about two or three topics in each chapter. For instance, when reading about Privet Drive, you discover that JK Rowling chose the number 4 for the Dursley's address because she wasn't a fan of the number.  
The earlier chapters were a bit boring, but once you get to Diagon Alley, you get pulled in to Pottermore even more.  Once you arrive, you and Hagrid go to Gringotts in order to open a bank account.  You have to do this so that you can start shopping.  With your galleons and knuts in your pocket, you can walk around and purchase items off of your shopping list.  I bought my school books and then went to go buy my wand.  The process of picking your wand entails seven questions.  After buying my wand, I boarded the Hogwarts Express and made my way in The Great Hall for the Sorting Process!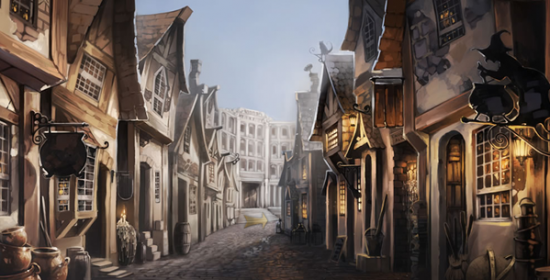 I'm not going to lie, but I'd been pretty worried about getting sorted since I'd been hearing rumors on Tumblr that over 60% of Pottermore users were being sorted into Hufflepuff.  No offense to Hufflepuff, but I just honestly don't see myself as one.  I of course, wanted to be a Gryffindor. When you click on the button to get sorted, a video pops up, where JK Rowling tells you that you're about to be sorted!  It was really, really awesome.  I felt like she was talking directly to me.  She simply asked everyone to answer the following questions honestly.  I clicked on the next button and entered the sorting process.  Some of the questions made sense, but other asked you if you preferred dawn, or desk, or going right or going left... How would those answers put you in the correct house?  After it was all said and done, I got sorted into Gryffindor!  
Once you get sorted, you are instantly taken to your common room where you can chat with fellow Gryffindors, and see how many house points you have.   After reading up on some of the little tidbits from JK Rowling that I had missed because I had wanted to be sorted, I decided to call it a day.  Once I've finished Pottermore, I'll be doing another post to let you guys know how the second half of book one is!  
But in all honestly, If you're losing sleep over the fact that you haven't gotten your email, don't be that sad, because you're not missing out on that much.  I mean, it is really cool, in the sense where you get to read up on things that JK Rowling couldn't fit in the book, but still, I feel that Pottermore could be better.  This is only the Beta process, which means that there is still much more in store for users once the site is fully active in October.  And if you are really missing Harry Potter as badly as I am (which I'm sure a lot of you are), reread the books or go see the final film in theaters one last time.  It's not going to be in theaters for much longer, and I know I want to go see the movie that ended my childhood at least one more time!
Categories: Harry Potter