With Comic-Con roughly two weeks away, we've slowly began to see some awesome information coming our way via comic-con.org.  Yesterday the started a new created a new page that is a countdown to Comic-Con.  But today, they've given us the map and list of the exhibitor's List.  It seems to be about the same set up as last years con, but still check it out and memorize as much as you can before attending the Con.  If this Con is your first Con, then I would really encourage you to locate the Big Five Booths, like WB, Showtime, Mavel, 20th Century Fox, DC and LucasFilm.  These, along with Darkhorse, Lionsgate and Sony will be extremely busy, so make sure you hit these up for all the free giveaway early in the day, or you may miss out.  
Most booths will give away certain things during the day, and will cut off giving things away after a while.. So just remember to hit up these booths early, and often, to make sure you get the best give aways.  
But it's not just the Exhibition Hall map that's been released, there may be some good news to Marvel fans.. Even though Marvel has decided not to have a presentation in Hall H for Avenger or Captain America, I've been hearing some excellent rumors that a few of both films' stars will be attending the Con.  Last week, I was talking to a friend who is working for Comic-Con within the programing department, and she mentioned that they were maybe going to be splitting the Marvel stuff up.  It sounded like she was talking about doing multiple panels, and none of them being in Hall H.  
It's already been confirmed that Chris Evans (Captain America) will be at the Con, since his film will be opening up over the Comic-Con weekend.  I'm also thinking that Captain America is going to have some sort of super secret screening for Con-Goers only.  
Comic-Con has also stated that they will start releasing the official prgraming tomorrow. But here's what we know so far:
Wednesday (Preview Night):
Alcatraz pilot screening – 6:00-6:50pm (Ballroom 20)
Person of Interest pilot screening – 7:40-8:35pm (Ballroom 20)
Thursday
Ringer - 1:45-2:45pm (Ballroom 20)
Dexter – 6:35-7:30pm (Ballroom 20)
Torchwood: Miracle Day episode screening – 9:30-10:15pm (Room 6DE)
Game of Thrones - (Time/Location TBA)
Friday
Torchwood: Miracle Day - 10:00-11:00am (Ballroom 20)
Locke & Key – 10:30-11:30am (Room 8 & 9)
The Big Bang Theory - 12:30-1:30pm (Ballroom 20)
Saturday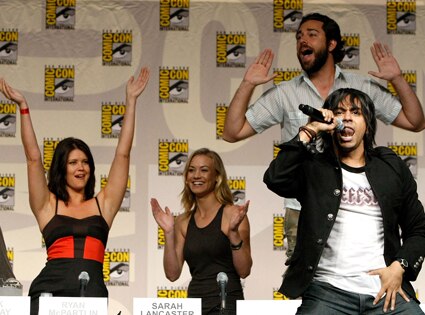 Chuck - 10:00–10:45am (Ballroom 20)
Fringe – 4:15–5:00pm (Ballroom 20)
Grimm - 4:15-5:15 (Room 6A)
Nikita - 6:00-6:45pm (Room 6BCF)
Person of Interest - 6:45-7:30pm (Room 6BCF)
Sunday
Supernatural - 11:15-12:15am (Hall H)
Doctor Who- 12:30-1:30 (Hall H)
What are you most excited for at this years Con?
Categories: Comic-Con, Avengers, Marvel