Our annual Thursday colum filled with everything a geek finds awesome.  This week is no different.
Harry Potter Deleted Scene!
AS we reported tonight, WB has offered us our first glimpse of a deleted scene from 'The Deathly Hallows Part 1' DVD and BluRay.  The scene they showed us tonight was one between Harry and Aunt Penunia.  I rewatched the scene several times and each time I would ask myself the same question:  Why didn't this make the final cut?  The Dursely's are one of the most hated families in film, and this one scene actually showed Petunia had  a heart, and yet Yates still cut it?  I can understand that they thought the scene might not have flowed well with the rest of the film. Well, an easy way to fix this would be to add the scene in where Dudley basically thanks Harry for everything.  These two scenes would have appeased many Potter fans, including this one.  Here's the scene if you haven't seen it yet:
I just can't get over how much I love this scene.  It offers more than we get in the book.  In the book, Petunia looks like she wants to say something to Harry, maybe its that she actually liked him, or maybe it's that she wishes him the best against Voldemort.  But in this clip, we see that she actually loved her sister.  If you read the book, you find this out in 'The Prince's Tale,' but we can hear it in her voice.  She lost a sister, and even though she's acted like she hates Harry, he reminds her of Lily everyday.  Hmm, maybe this is one of the reasons she's mean to him.. 
The Avengers
Joss Whedon's 'Avengers' has officially started filming!  According to Marvel CEO, Joe Quesada, 'The Avengers' have assembled, and the screenplay is amazing.  He wouldn't talk much about the subject, choosing to instead talk about the more recent Marvel film, 'Captain America' instead, but did say 'The Avengers' was very similar to a rock concert.   I can agree with him there.  When I saw the 'Avengers' come together on stage at Comic-Con last year, my heart almost stopped.  The cast looks amazing together, and with Joss Whedon at the helm (Writing and directing) I don't see why this movie won't be incredibly awesome.  
Star Wars
For some reason, I've been more obsessed with Star Wars than usual.  It's probably because of the awesome 'Rebecca Black destroys Alderaan' video that I saw!  Come on, that was absolutely hilarious!  Thanks to CollegeHumor, I discovered even more Star Wars humor.  If you haven't seen Troopers, nows a great time to start.  Troopers shows how the life of a stormtrooper really is.  It offers us a humorous glance in their work lives, as they face the threat of interrogating Princess Leia.. Take a look for yourselves.  This is an ongoing series so make sure you check out collegehumor for more of this awesome series!
Here's an example of just how awesome collegehumor handles Star Wars:
In honor of my obsession with Star Wars I give you this awesome 5 day forecast of the weather on Alderaan via thenerdist.com
Adidas has also unvieled their new line of 'Star Wars' summer sneakers.  Prepare yourself (And your credit cards) because you will want all of them!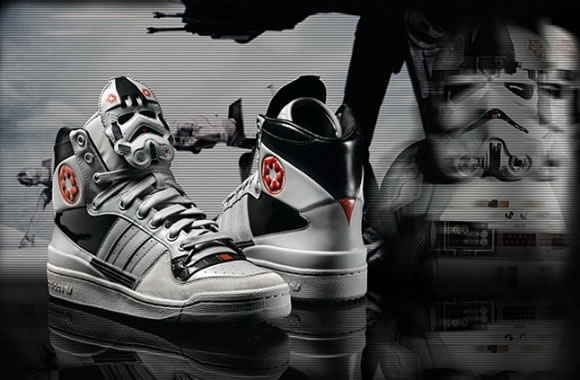 Well folks, thats all for this week.  See you next Thursday! 
Source: Comicbookmovies 
Categories: Harry Potter