Have you been searching the web for some awesomely geeky and nerdy sites and feel that you've been coming up short?  Don't worry, we here at Frak Earth have your back.  Here are some of the nerdiest sites and photos that we could find for you guys this week.
Teefury.com: This website offers you the chance to buy one awesome/nerdy t-shirt each day, for just $10!!  The designs are made my fans, so if you wanted to submit something you've been doodling during econ 251, then submit it to the site.  Teefury also has a gallery of every shirt they've sold, but the catch is, you can only buy each shirt during the 24 hour time period they sell it for.  (And a heads up for all you West Coasters, the 24 hour period ends at 12 East Coast time, so make sure to check the site each day before 9 your time, our you'll miss out).  Here's todays t-shirt:
And a previous shirt that totally rocks.  I wish i had seen it when they had it on sale last week!
(I know, it frakking awesome)
Riptapparel: This website is very similar to teefury, but offers a different type of nerdy shirt.  For instance todays shirt is a Glee shirt, and probably not something you'd see on teefurys site.  They have some really cool nerdy shirts, and if your into just cool looking shirts, definetly check this site everyday.
Here's todays t-shirt:
And yesterdays:
Geek Alerts: This is a site that I just happened to stumble upon while searching google yesterday.  Geek Alerts keeps you up-to-date on everything nerdy you'd ever need.  Want a Batman USB drive.  Well, Geek Alerts has it.  Here are a few of our favorite nerdy toys they have!
(It's a Klingon win opener!!)
(Star Wars Bluetooth Headset)
(Comic book picture frame!!)
And Finally, I've got one really cool picture for you guys.  I was on Tumblr last night and happened to scroll by this awesome picture of Heath Ledger skateboarding over Christian Bale.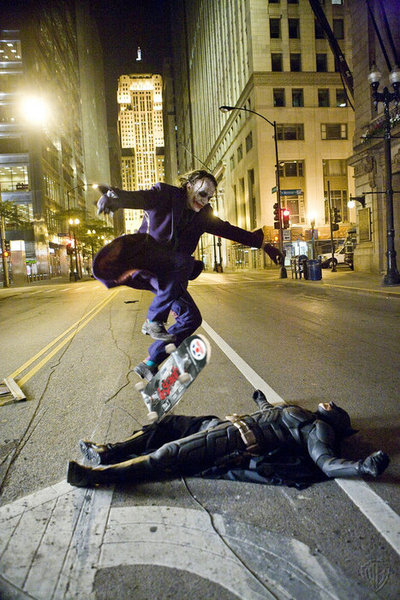 Well, thats it for this week. 
Categories: Geeky