Shopping Cart
Your Cart is Empty
There was an error with PayPal
Click here to try again
Thank you for your business!
You should be receiving an order confirmation from Paypal shortly.
Exit Shopping Cart
FRAK EARTH
For the nerd in all of us
It's not everyday that the superheroes we all know get to team up together for a full length, live-action, feature film.. But nerd god Joss Whedon has answered our prayers!  Whedon has rounded up Marvel's superheroes and put them in what some are calling, the best superhero movie ever made!!  I am finding it difficult to wait until next Friday to watch the film (stupid Europe gets to see it already), but until then check out our list of reasons why the Avengers is gonna be frakking awesome!
10. The Trailer
If the first trailer from Marvel's next big picture didn't bring out your inner fanboy, I don't know which movie ever will.  Even though I try not to  watch any scenes or additional tv-spots that have been released, I did find an awesome fanmade trailer that combined previous tv spots and new scenes that is really, really sick, .  The trailer showcases the always sassy Tony Stark (Robert Downey Jr) explaining to The Big Bad-Loki-(Tom  Hiddleston) how he has angered all of the Avengers. 
9. Tom Hiddleston's Article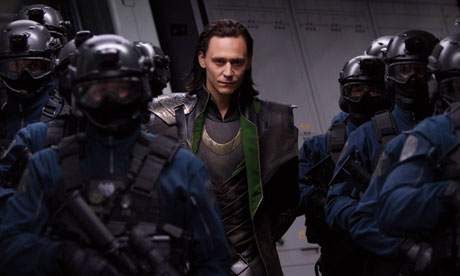 Tom Hiddleston has a very unique fanbase.  I say this because it was something that had always bothered me about Tom.  But last week, Tom wrote an article about how movies like Avengers should not be scorned.  It's a very interesting article and it shocked me just how eloquently he writes.  Be sure to check out the article on TheGuardian. His article was intelligent and showed the importance of superhero movies and why we all love the shit out of them. 
8. Joss Whedon Directing
There a few people that most nerds would trust to helm a project as big as the Avengers.  But as soon as Joss Whedon  was announced as the director at Comic-Con in 2010, fans erupted in praise.  My only fear for Joss is that nerds have set the bar too high, and that anything he gives us will fall short.  I have faith in Joss, and although I am afraid that, as in classic Joss fashion, he will kill someone I love.  One of the main reasons that we all expect greatness from Whedon is because he nerds out just like us.  
7. Pepper Potts
Tony Stark's badass secretary, Pepper Potts, originally wasn't going to be apart of the movie, but Joss Whedon has said that it was Robert Downey Jr. who persuaded him to write Pepper into the script.   Joss stated that "He (Tony) didn't want to be sort of, crazy alone guy, he wanted to be crazy in-a-relationship guy." Couldn't agree more.  I think that keeping Pepper in the mix will help Tony, and also bridge the gap between Avengers and Iron Man 3. 
6. The Reviews are Spectacular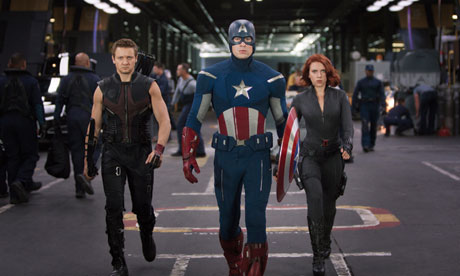 All of the reviews I'm reading are calling this the greatest superhero movie ever made.  And it's not just one review.  It's most of them.  The reviewers are praising Joss, and each of them is making me more and more excited to see the movie!  The movie is already doing well in the box office abroad, and is expected to do really well in the UK where it opens tomorrow.  (The US is forced to wait until May 4th).  And if the reviews aren't persuading you to see the movie, Avengers is also sitting at 96% on Rotten Tomatoes.  
5. Nerds Love It
I'm stoked that most reviewers are loving the movie, but let's be honest, as a nerd, I look to see how other nerds like the film.  And so far, their tweets have made me even more excited about the movie than the reviews themselves.   And by the way, Seth Green has seen the movie twice. 
4. Joss Has Promised 30 Minutes of Deleted Scenes
Although we won't be able to see these scenes until they are released on DVD, (Please have a director's cut!!) just the thought of knowing there is another half hour of Avengers footage is enough to give me the chills.  Joss spoke about a few of the scenes they filmed, such as extra scenes with Captain America.  Although the scenes haven't made the final cut, Joss has said that such scenes as Captain America reuniting with Peggy Carter were filmed and will be on the DVD! 
3. After Credit Scene
I've been trying to stay spoiler-free until Avengers premieres, but even I've heard a bit about the after credit Avengers scene.  I won't spoil anything for you, but I've heard there's a possibility another Avenger has a cameo in the scene.  I have no idea if this information is true, but if it is, who could the new avenger be???? Could there be a Nathan Fillion cameo?? Okay, I'm fangirling, but honestly, I'm just excited to see who it is!!!
2. Possible scene filmed after premiere?
Robert Downey Jr and Mark Ruffalo both let it slip at the premiere that they were meeting up after to film an additional scene.  I never heard any additional rumors about the scene, or if any filming was being done. If these rumors are true, how will they change the film?  
1. Seeing The Avenger Wreck Shit Up
As the list concludes, the thing I am looking most forward to is simply seeing the Avengers on screen, kicking ass together.  Watching Nick Furry assemble the crew will be exciting and humorous, but seeing the crew actually learn to work together will be worth every penny.  
Categories: Avengers
/