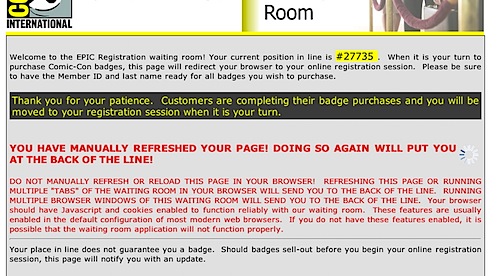 I'm happy to say that I was one of the lucky fans that were able to purchase tickets to Comic-Con this summer.  I had been pretty sceptical of the member ID system that Comic-Con had decided to adopt.  I was sure that the site was going to go down at some point during the morning.  I'm sure I wasn't the only one surprised that the site was functional and Epic (the wonderful ticket company that had fans fuming last year) impressed me with their new system.  I for one read the 4 page PDF that Comic-Con emailed me earlier last week, and also watched the 8 minute how-to buy comic-con bages.  
Last night a few friends and I had exchanged our member IDs and all essential comic-con information, because we knew just how crazy the day was going to be.  I logged on this morning at 8 and although at first the site was clocking up, It eventually loaded and I was number 5196.  My friend was about 1000 behind me.  The virtual line went pretty quickly, and after 30 minutes I was number 1 in the line.  
Once I bought my tickets, and a few for my friends, I went on Twitter and saw that many people had problems with the link not working properly.  Many people had to wait up to 15 minutes for their links to work, and by that time they were 30,000th in line, which put them out of the running for tickets. I bought my tickets at 8:30, and by 8:39, all 4 day badges had sold out.  I wasn't suprised that 4 day badges went that quickly.  All comic-con 2012 badges were sold out by 9:30.  If you didn't get a ticket, I feel your pain.  I was apart of last years shit-show that was Epic Fail.  You will have another chance to buy tickets.  Comic-Con will have a resale day, probably the end of May or beginning of June. And, last year Comic-Con offered hotel/badge sales right before the Con.  
If you're unsuccussful in both, you can always take a shot at trying your luck on Craigslist.  If it comes down to it, make sure the person you're buying from has a Complimentary badge.
All in all, I would have to say that this years badge sales went much smoother than last years.  The virtual line worked much better than last year where people were forced to refresh the page for hours.  Were you able to get tickets to this years con?  How was your experience?
Categories: Comic-Con