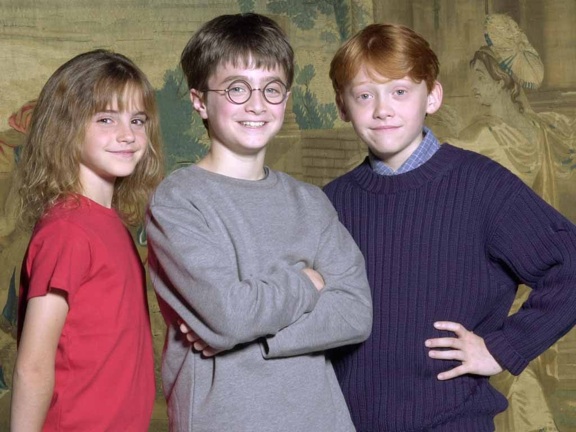 Even though Warner Brothers has been releasing more clips than ever, they really redeemed themselves with this brand new trailer.  WB has taken the previous 7 films, and put all of it into one final trailer, that is as epic as it can be.  Watch the video so that you can see Harry's journal from beginning to end, and really get in t...
Read Full Post »
With Harry Potter Weekend happening on ABC Family this week, wether they want it or not, Potter fans have been shown tons of new clips.  Although I won't be watching any, I tracked them all down so that you guys can watch if you like!  Check them out below!
This first clip is a brand new feature that shows scenes between Harry and Voldemort, and also some interviews with Dan and Ralph!  
               ...
Read Full Post »
Although this week seems to be all about Harry Potter, there are still some other major things that happened this week.  
The Hobbit
First and foremost, the first official image from the Hobbit set has been released. 
The latest image released for Peter Jackson's 'The Hobbit' revea...
Read Full Post »
Whether we like it or not, the final countdown has begun until the final Harry Potter film hits our screens.  Earlier today, in London, the Harry Potter cast started their final two wee...
Read Full Post »
As if you weren't already sad enough, these 4, brand new posters, will bring out the sadness.  They were just released, and once again say the same tagline: It All Ends.   These posters aren't making the end of Harry Potter any easier to fathom.  Check them about below:
Read Full Post »
There have been some very awesome Harry Potter paradies recently, and I've decided with the new movie coming out, it was time to rank them!  Here are my top six Harry Potter parodies.
Like It's Quidditch
Read Full Post »
I know most of my posts this week have been about Harry Potter, but I thought one more couldn't hurt... Well, to be honest, this one might. A new video has been released that shows the cas...
Read Full Post »
While reading Harry Potter, I've begun to question how I would travel if I was a witch.  It sounds ridiculous, but the more I've read, the more I've thought about how most wizards and witches travel.  We know that you can't apparate until your 17 (and you still have to pas...
Read Full Post »
At the rate Warner Bros is going, they're going to release the entire film before July 15th.  Yesterday, they released a new clip via Comcast that is a behind the scenes look at the disguises used in the film.  I've heard there is also a clip attached to this 3 minute feature.  I'm trying with all my willpower to NOT watch t...
Read Full Post »
With 15 days until Harry Potter, the final days of advertising and the crazy media frenzy has finally started.   The photo above is the cover of this weeks collectors edition of  Entertainment Weekly.  Here are some of a few...
Read Full Post »